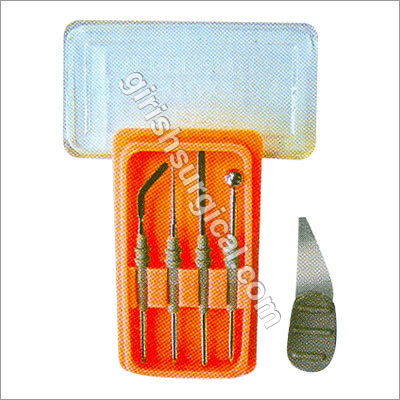 Product Description
We are renowned for manufacturing and supplying the best quality Surgical Electrode Set. This is a sterile, single use special surgical set for temporary electrostimulation after open-heart surgery. This electrode set comprises of a stainless steel braided wire and plastic isolating cover made of polyethylene. High in demand for use in temporary cardiac pacing or monitoring, this Surgical Electrode Set produces minimum tissue reaction.
Features:
A temporary non-absorbable electrostimulation set
Rust free medical grade stainless steel braided wire
Excellent strength and flexibility

Size: 3 / 32(3.2mm).
Material: Stainless Steel. (316 Quality, Special Surgical Steel).
Electrode Set Contain.
Ball Point Electrode.
Straight cutting Knife.
Straight Pointed Electrode.
Band Cutting Knife.
Electrode Cleaner.
Plastic Electrode Case.
Autoclavabel (Reusable).
***************************************************
Needle set electrodes:-
*) 4electrodes each set CONTAIN.
a) Ball point electrodes (6mm ball).
b) Straight pointed electrodes.
c) Straight knife electrodes.
d) Band (angle) knife electrodes.
*) hexagon fitting in between the electrodes according to the chuck handle fitting so the electrodes will not move it will be in the same position as how you will insert the electrodes.
*) needle cleaner for cleaning the carbon which appears after operating. (AUTOCLAVABLE).
*) MATERIAL:- 316 special surgical steel (certified).
(If required we can make a quality grade certificate on your firm's name).
*) Autoclavable (reusable).
*) electrodes case.
Contact Us
Chatrapati Shivaji Maharaj Marg, Vokola Bridge, Shivaji Nagar, Opp. Anjaneya Hotel, Gala No.2, Santacruz (East),, Mumbai, Maharashtra, 400055, India
Phone :+918068091796