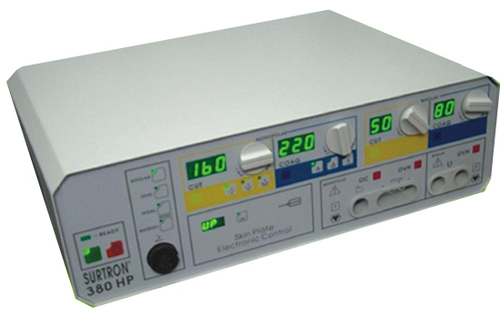 Product Description
Surgical Cauteries
Electrosurgical Unit 380HP
EASY TO USE – The operation modality and the output controls selection is made simply and means of keys provided with iconographic description. All the indications of operative condition and of selected output level are digital bright.
CUT – The monopolar cut can be performed by pure sine current to obtain an incision with a minimum damage for the adjacent tissues and sure recovery for first intention, or with two different modality of modulation allows to reduce the bleeding during the monopolar cut. (TUR – Arthroscopic)
In the bipolar modality the cut can be effected with pure sine current
HEMOSTASIS – When the surgical action requires to obliterate a bloody vessel the availability of current with different coagulative power allows to effect this type of work both with monopolar and bipolar surgery.
FULGURATION – When it is necessary to cause a superficial necrosis of wide areas, protecting the deeper tissues, it is available for the operation
OUTPUT CONTROL – Output power levels are adjustable by means of incremental encoders that allow the exact predetermination and reproductivity of the values. The output function is linearized and a managed by means of electronic microcontrollers which prevent the delivery when any condition of checked alarm happen.
SAFETY TO USE – Circuit dedicated to the safety of operator and patient had been particularly mind. Monopolar and bipolar output circuits are completely floating and the use of the defibrillator is allowed while the reference plate patient is connected.

RELIABILITY – SURTRON® HP uses all solid state electronic parts and it is realized with modular interchangeable board for a fast and effective maintenance. Particular automatic control circuits protect the unities from damage also due to repeated improper use.
CONTROLS
Patient to plate contact control
Plate/patient circuit watching (Skin Plate Electronic Control)
Digital control and indication of the output power
Adjustment of the intensity of the sonorous issue
Split or not split return electrode use allowed
Over Temperature Control (OVT)
Main Features
| | |
| --- | --- |
| SURTRON®HP | 380 |
| Maximum output power monopolar CUT (W) | 375 → 300Ω |
| Maximum output power monopolar CUT/COAG 1(W) | 340→ 300Ω |
| Maximum output power monopolar CUT/COAG 2(W) | 300 → 300Ω |
| Maximum output power monopolar COAG (W) | 225 → 300Ω |
| Maximum output power monopolar COAG2 (W) | 150 → 300Ω |
| Maximum output power monopolar spray COAG3 (W) | 80 → 2000Ω |
| Maximum output power BIPOLR CUT(W) | 90 → 100Ω |
| Maximum output power BIPOLAR COAG(W) | 80 → 100Ω |
| Monopolar working frequency | 475 kHz |
| Bipolar working frequency | 525 kHz |
| Mains voltage (Vac) | 115- 230 |
| Mains frequency (Hz) | 50 - 60 |
| Electrical class (EN60601 – 1) | I CF |
| Neutral electrode | -F- |
| Weight kg | 15 |
| Size HxLxD mm | 470x150x370 |
Contact Us
Chatrapati Shivaji Maharaj Marg, Vokola Bridge, Shivaji Nagar, Opp. Anjaneya Hotel, Gala No.2, Santacruz (East),, Mumbai, Maharashtra, 400055, India
Phone :+918068091796