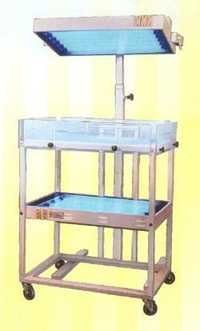 Photo Therapy Units
Product Description
Photo Therapy Units
Jaundice in newborn can be best treated by using Photo Therapy especially using special purpose NNPT tubes (Normally 4 NNPT cool blue tubes Phillips Holland make for Photo Therapy Source unit only), made exclusively for treating Hyperbilirubinaemia. The said tubes emit ultra violet radiation with peak radiation of 450 nm. The more number of NNPT Tubes, the more effectiveness which in turn ensure fast reduction Billirubin percentage of the Infant.
Photo Therapy is available in single & double surface version. The overhead source comprises 4 NNPT tubes and 2 white tubes, while under surface Photo Therapy bank of light comprises 2 NNPT tubes and 2 white observation tubes (NNPT tube No. Can be increased as per requirements.)
Both the trolley and source unit can be used in conjunction or separate.
The under surface trolley is mounted on castors with drop down Acrylics side panels and provided with Acrylic baby bed and bubbles mattress.
The source unit can be adjusted to various angles and the bank of light's can be adjusted in upward direction.

The Double Surface version along with warmer source unit makes a"PERFECT DUTE".
Contact Us
Chatrapati Shivaji Maharaj Marg, Vokola Bridge, Shivaji Nagar, Opp. Anjaneya Hotel, Gala No.2, Santacruz (East),, Mumbai, Maharashtra, 400055, India
Phone :+918068091796