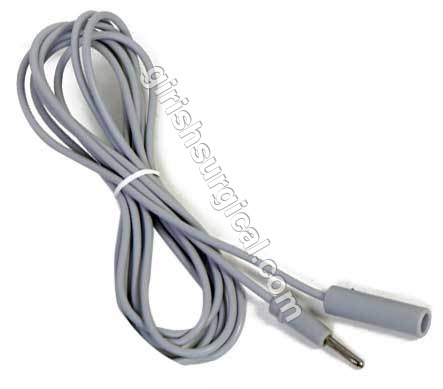 Monopolar Silicon Cable Cord
Product Description
Monopolar Silicon Cable Cord for 250/300/400/500 WATT unit. A.D'S:- 046.
MATERIAL & QUALITY:-
Material

:

24/0.2MM SINGLE core, PTFE insulated, silicon rubber insulated SPC Cable.

Color

:

Gray OR Blue

Cable length

:

3 meter.

Dimension: -

ONE SIDE 5/32 JACK PIN & OTHER SIDE MONOPOLAR CONNECTOR SIZE:-4MM FEMALE HOLE.

(Universal designed).

Packing: -

Sealed in high quality P.V.C. plastic cover and packed in gray color envelops for high quality branded look & safety.
*) Autoclavable (Reusable).
Why GIRISH SURGICAL WORKS bipolar cable Cords?
*) Made from high quality industrial grade imported material
*) Designed to best perfection
*) Complies with international quality.
*) Easy to use and comfortable in operating.
We G.S.W are proud to offer superior quality MONOPOLAR SILICON CABLE CORD which is specially designed by experts in accordance with internationally accepted quality and performance standards. Our MONOPOLAR SILICON CABLE CORD Cord has been very useful in surgical operations because of their light weight and non-corrosive nature. Made from industrial high grade material, our electrosurgical MONOPOLAR SILICON CABLE CORD Cords have helped us to carve niche in markets across the globe.
We G.S.W.are one of the leading names in the market when it comes to superior quality MONOPOLAR SILICON CABLE CORD we offer excellent MONOPOLAR SILICON CABLE CORD that are used to connect forceps with universal fittings.
Contact Us
Chatrapati Shivaji Maharaj Marg, Vokola Bridge, Shivaji Nagar, Opp. Anjaneya Hotel, Gala No.2, Santacruz (East),, Mumbai, Maharashtra, 400055, India
Phone :+918068091796