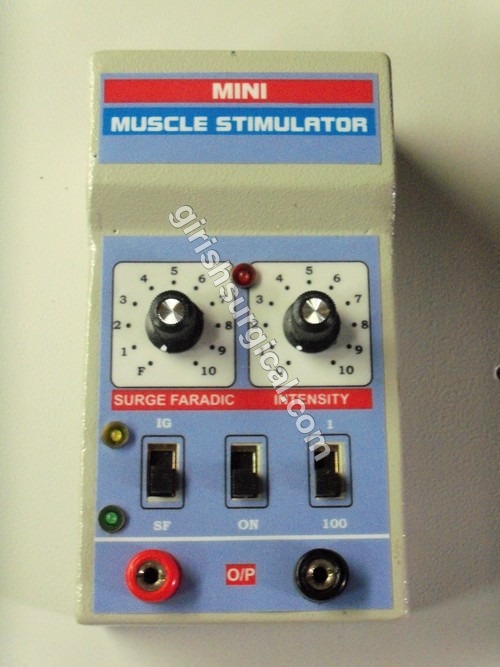 Product Description
In just a short span of time, we have emerged as one of the prominent manufacturers and suppliers of an excellent range of Mini Muscle Stimulator. This stimulator is extensively used for achieving various effects including reduction of oedema, strengthening and re-education of muscle, relief of pain and would repair. This Mini Muscle Stimulator is considered as one of the most efficient physiotherapy equipment which uses various types of faradic and galvanic currents for the purpose.
Key features:
Produces electrical pulses which enters the body tissues via surface electrodes
Easy to install
Long working life

We are happy to give you one of our best product Mini Muscle Stimulator With TENS. UNIT
FEATURES :-
Easy portable treatment
Three output selections ( Tens, Interrupted Galvanic, Surge Faradic )
Good quality cover.
INPUT SUPPLY : 230 V AC, 50Hz
TECHNICAL SPECIFICATIONS :
Pulse width : 400 micro sec.
Frequency : 50Hz
IG
Pulse width : 100 mili sec.
Frequency : 1 per sec.
SF : 1 to 9 sec. duration.
STANDARD ACCESSORIES :
One pair plate electrode
One pair Velcro Straps
HOW TO USE:-
*) connect the mains cable cord fo the UNIT to the mains socket (electric supply).
*) insert the pair of male cable cord to the unit induvidualy in the output terminal and the other female connector induvidualy to the rubber pad given with the unit.
*) tie the rubber pad to the patient where ever want to give the theraphy with the velcro.
*) now switch ON the unit.
*) intensity knob is given to increase OR decrease the power (pule beat).
Contact Us
Chatrapati Shivaji Maharaj Marg, Vokola Bridge, Shivaji Nagar, Opp. Anjaneya Hotel, Gala No.2, Santacruz (East),, Mumbai, Maharashtra, 400055, India
Phone :+918068091796