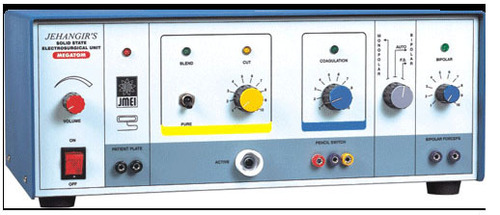 Product Description
Megatom Electrosurgical Unit
STANDARD FEATURES
Fully solid state design

Independent Monopolar and Bipolar generators with

isolated outputs

The Monopolar generator provides CUT (with

switch selection of BLEND) and COAG facilities

while the Bipolar generator is for Dessication

Bipolar Generator has Auto switching with delay or

footswitch control

Operating modes are identified by audio tones and

panel lights

IIIuminated ON/OFF switch

Suitable for underwater CUT and COAG
HIGHLIGHTS:
Provision for control by pencil switch or foot switch

Simultaneous CUT and COAG command

recognises

COAG only for pencil switch or footswitch control

Patient plate leads supervised during Monopolar

operation. Disconnected patient plate lead/leads will

disregard hand or footswitch commands

Audio-visual indication for patient plate lead faults

Natural convection cooling with silent operation

Separate output sockets for BIPOLAR
ACCESSORIES: Standard:
a) Surgical handle with cable
b) Needle electrodes set
c) Double pedal foot switch with cable
d) Stainless steel patient plate with cable
e) TUR adaptor
Optional (Extra cost):
a) Bipolar forceps with cord and jack
b) Monopolar forceps with cord & jack
c) Pencil switch with cord and jack
e) Servo type AC line regulator OUTPUT TERMINALS: Monopolar Generator:
a) Two wire patient plate jack
b) Active Output
c) Pencil switch terminations
d) Rear panel foot switch connector

Bipolar Generator:
Separate terminals
Power: 230 1%, 50 Hz single phase
Size : (w) 490mm; (h) 180; (d) 290mm
Weight: 15Kg
TECHNICAL SPECIFICATION: OUT PUT
Monopolar Generator: (Frequency 500 25KHz)
CUT Control full scale (PURE) 375 20W, 500 load
CUT Control full scale (BLEND) 250 10W, 500 load
COAG Control full scale 125 15W, 500 load
Bipolar Generator: (Frequency 650 50 KHz)
Output level full scale 60 10W, 125 load

CONTROLS & INDICATORS
Monopolar Generator:
CUT Mode:
CUT level & BLEND level panel controls. Mode
indicator light and corresponding audio tone
COAG Mode:
COAG level panel control
Mode indicator light and corresponding audio tone
Patient Plate Monitor:
Continuous monitoring of patient plate leads integrity
faults indicated by light and corresponding audio tone.
Faults will disregard CUT/COAG commands for extra
safety

Bipolar Generator:
BIPOLAR level panel control
Mode indicator light and corresponding audio tone
Generator Selector:
Can select Monopolar Generator or Bipolar Generator,
Bipolar Generator can be selected to operate in Auto
or Foot-switch control mode.
Contact Us
Chatrapati Shivaji Maharaj Marg, Vokola Bridge, Shivaji Nagar, Opp. Anjaneya Hotel, Gala No.2, Santacruz (East),, Mumbai, Maharashtra, 400055, India
Phone :+918068091796