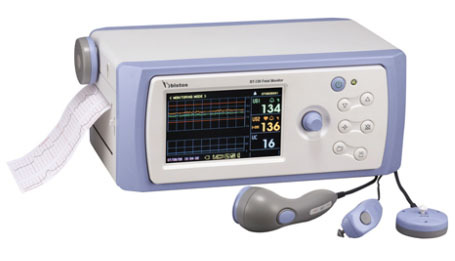 Product Description
Fetal Monitor BT-330 LCDBT-330 is an Antepartum Fetal monitor displaying FHR, UC, and FM on LCD Monitor to check fetal health after measuring them. It has also Event marker function enabling a pregnant woman in childbed to indicate fetal movement point by pushing its button by herself when she feels fetal movement. BT-330 indicated FHR as numeral by irradiating ultasound at the abdomen, abstraching doppler frequency of heart beat cycle from the signals reflected from fetal heart, outputting FHR change as a sound, and analyzing these signals. Besides, you can measure UC by using pressure sensor, indicate, and print the data of FHR and UC. BT-330 prints FHR, UC, and FM on thermal paper and displays LCD monitor.


• Twin fetuses Measurement
• Automatic fetal movement Measurement.
• Alarm & Timer
• Printing speed and color depth control functions.
• Automatic printing & Zoom
• Wide Range of FHR measurement : 30~240 bpm
• Simultaneous display through printer & LCD monitor
• Data save
• FHR Sound save in PC by BCM 330 Software.

• Wire & Wireless external interface for central monitoring system.



FHR

Dual Pulsed Doppler
Ultrasound Frequency : 0.985MHz
Intensity : 10 mW/㎠or less
FHR Range : 30 ~ 240 bpm
FHR Accuracy : ±2% of Range

FM

Auto-detection of Dual Fetal Movement

UC

External Type

Frequency Response : DC ~ 0.5 Hz

Refernce (zero) Control

Measurement Range : 0 ~ 99 units

Printer

Thermal Array Type

Print Speed : 1. 2. 3 cm/min

Paper Feeding Function

Display

Mono LCD : 320 X 240

3 Channels (FHR·, FHR·, UC)

Sound

Doppler Sound

Alarm Sound

Information Sound

Set-up

Alarm Upper /Lower Value

Print Speed

Function

Mark Function

FHR· Offset Function

Auto Print Function

Zoom-in Function

Data Saving for 12 hours
Hart Sound Recording in BCM300

Power

Input : AC 100 ~ 240V (50/60 Hz)

Output : DC 16V, 2.8A

Consumption : 80 VA

Battery Operation : continuously 2 hours

Dimension

191mm(H) × 187mm(L) × 201mm(D)

External Link

RS-232C

Wireless : Bluetooth
Contact Us
Chatrapati Shivaji Maharaj Marg, Vokola Bridge, Shivaji Nagar, Opp. Anjaneya Hotel, Gala No.2, Santacruz (East),, Mumbai, Maharashtra, 400055, India
Phone :+918068091796