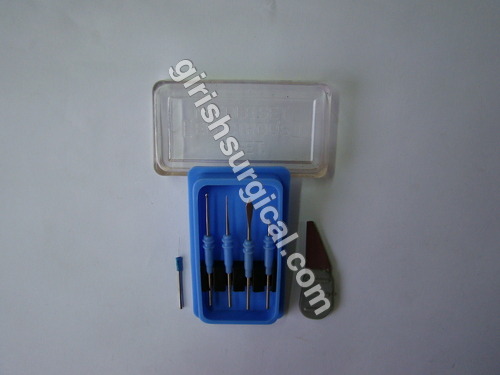 Product Description
Electrodes (Needle set) FOR SKIN-CAUTERY & RADIO FREQUENCY UNIT / MACHINE (SPECIALLY DESINED FOR SKIN SURGEONS):-
Needle Set (Electrodes).
NEEDLE ELECTRODES FOR PENCIL CHUCK HANDLE / WOODEN FIBRE HANDLE SIZE:-1/16 (1.6MM).
(SPECIALLY DESINED FOR SKIN SURGEONS)
Surgical Electrode Set
Size

: -

1/16 (1.6MM).

Material

: Stainless Steel. (316 Qualities, Special Surgical Steel).
Electrode Set Contain.
Ball Point Electrode.

Straight cutting Knife.

Straight Pointed Electrode.

Band Cutting Knife.

Electrode Cleaner.

Plastic Electrode Case.
Autoclavable (Reusable).
***************************************************
Needle set electrodes:-
*) 4electrodes each set CONTAIN.
a) Ball point electrodes (6mm ball).
b) Straight pointed electrodes.
c) Straight knife electrodes.
d) Band (angle) knife electrodes.
*) hexagon fitting in between the electrodes according to the chuck handle fitting so the electrodes will not move it will be in the same position as how you will insert the electrodes.
*) needle cleaner for cleaning the carbon which appears after operating. (AUTOCLAVABLE).
*) MATERIAL:- 316 special surgical steel (certified).
(If required we can make a quality grade certificate on your firm's name).
*) Autoclavable (reusable).
*) electrodes case.
Contact Us
Chatrapati Shivaji Maharaj Marg, Vokola Bridge, Shivaji Nagar, Opp. Anjaneya Hotel, Gala No.2, Santacruz (East),, Mumbai, Maharashtra, 400055, India
Phone :+918068091796