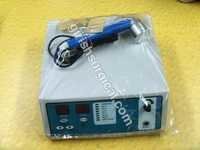 Digital Ultrasonic Therapy Unit
Product Description
Digital Ultrasonic Therapy Unit

We are happy to introduce you one of our best product DIGITAL ALTRA SOUND THERAPHY UNIT.
We are happy to introduce our unit so please go through it.
Digital Ultrasonic Therapy Unit (physiotherapy Equipment).
Features:-
This unit is designed to generate Ultrasonic waves for effective treatment of neuromuscular diseases. The Combination of the thermal effect and the mechanical effect on the tissues produces micro-massage as well as chemical effect on membrain permeability.
ï'· Digital circuitry.
ï'· Continuous and pulse mode output.
ï'· Light weight ultrasound applicator.
ï'· 1 MHz operating frequency.
ï'· Digital power density meter.
ï'· energized power output in watts per square centimeter indicated on power scale for continuous mode.
ï'· in pulsed mode, the meter indicates the power level during the duration of pulses.
ï'· Digital count down treatment timer.
ï'· Auto power cut-off with buzzer indication at the end of treatment time.
UNIT CONTAINS:-

*) Digital Ultrasonic Therapy Unit (physiotherapy Equipment).

1nos.

*) ultra sound sound head with crystal Cable cord & connector

1nos.

*) mobile brief case along with the unit.

1nos.

*) mains cable cord 3 pin type.

1nos







HOW TO USE:-
*) connect the mains cable cord to the Digital Ultrasonic Therapy Unit to the female connector.
*) insert the male sound head (probe) cable cord connector to the unit in the output terminal.
*) now switch ON the unit.
*) adjust the unit according to the contineous mode OR according to the given adjustable mode required by doctor to how much out put he would like to select from low level to upper level.
*) intensity knob is given to increase OR decrease the out put.
Contact Us
Chatrapati Shivaji Maharaj Marg, Vokola Bridge, Shivaji Nagar, Opp. Anjaneya Hotel, Gala No.2, Santacruz (East),, Mumbai, Maharashtra, 400055, India
Phone :+918068091796