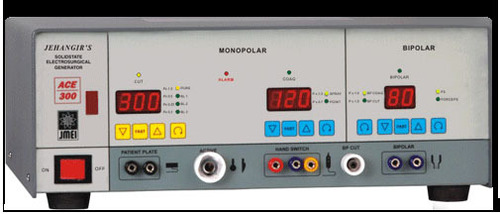 Product Description
ACE300 Electrosurgical Unit
TECHNICAL SPECIFICATION




OUTPUT:
MONOPOLAR (Frequency 500 KHz)

CUT
OUTPUT POWER STATED LOAD
PURE CUT 300 W 300OHMS
BLEND 150 W 300OHMS
BLEND 75 W 300OHMS
BLEND 90 W 300OHMS

COAGULATION
SPRAY COAG. 120 W 300OHMS
POINT COAG. 80 W 300OHMS

BIPOLAR (Frequency 500 kHz)
BIPLOAR COAG. 80 W 100OHMS
BIPLOAR CUT. 120 W 300OHMS

CONTROL INPUTS:
MONOPOLAR
Dual pedal Footswitch and / or Dual control
Handswitch.

BIPOLAR
Single pedal Footswitch / Bipolar forceps.

AUDIBLE SIGNALS:
Separate audio tones for CUT / COAG. / BIPOLAR
commands. Alternating audio tone for patient plate
fault. (If under command)

POWER
AC line Voltage 200 Volts to 250 Volts AC RMS, 50 Hz
single phase. Machine output unaffected in the
specified range, hence suitable to use without
additional voltage stabilizer.

SIZE : Width 415mm, Height 160mm,
Depth 385mm

WEIGHT : 8 Kgs.

ACE - 300 - The most progressive Electrosurgical generator

Its unique State - of - The Art technology offers

Monopoloar & Bipolar output
Spray coagulation & precise pinpoint coagulation
Pure CUT mode and three other modes of Blending at finger tip.
Plus numerous safty features. truly a sugaon's choice

SPRAY COAGULATION

Spray coagulation with safe isolation quickly controls bleeding with minimal tissue destruction. We call it 'Super Spray'. That's because it provides superior control of bleeding with less depth of tissue necrosis and minimal destruction. Spray coagulation can be used to give rapid fulguration for virtually all types of procedures from delicate micro-surgery to demanding oncology and thoracic surgery.

POINT COAGULATION

Precise pinpoint coagulation is also achieved in monopolar mode and provides precise control of localized bleeding. So it is ideal for use in a small, defined area.

BLEND

Pure cutting mode plus three other selected BLEND modes (mixing of CUT & COAG effect) for superior blending options. The CUT mode offers PURE CUT for smooth, clean cutting.

COMMAND

MONOPOLAR
a) Footswich : CUT/COAG. Pedals.
b) Pencil swich : Cut/COAG. Button
Appropriate LED's turn on with respective command input. a) and b) may be simultaneously connected to the machine and any one can issue command audio tone, to identify the CUT / COAG. command.

Interlocks: Simultaneous issue of foot switch or pedal switch (or CUT from Footswitch and COAG. from Pencil switch) will cancel the commands, resulting in no audio tone, command LED and no power output. This is a safety feature.

If Alarm LED is ON, (i,e. patient lead fault), then monopolar commands from Monopolar Footswitch / Handswitch are disregraded, i. e. CUT / COAG. LED's cannot turn on. However a dual audio tone only is issued on any monopolar command. No surgical power output can occur.

BIPOLAR:
a) Footswitch (single pedal) Command can be issued from Bipolar Footswitch if the panel indicator is FS in the bipolar block. Issue of the command is indicated by LED as well as an audio tone.
Precedence and Interlocks: Bipolar has precedence over monopolar that means if bipolar & monopolar are issued simultaneously, then bipolar is executed disregarding monopolar.
PPF (Patient Plate Fault). disconnection of one or both leads of patient plate circuit will turn on ALARM LED. In this case, any monopolar command will produce 2 tone audio, no command LED, no issue of monopolar command & no monopolar power. Bipolar block remains unaffected and is functional in spite of ALARM LED ON as it is not related to patient plate of monopolar generator.













Contact Us
Chatrapati Shivaji Maharaj Marg, Vokola Bridge, Shivaji Nagar, Opp. Anjaneya Hotel, Gala No.2, Santacruz (East),, Mumbai, Maharashtra, 400055, India
Phone :+918068091796